DuraTap™ Sieve Shaker
Featured Product from CSC Scientific Company, Inc.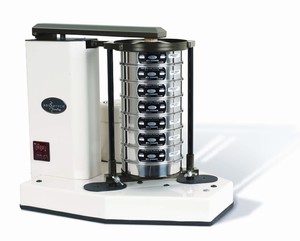 The DuraTap™ Shaker solves problems of:
Matching long established shaker standards.
Achieving low maintenance.
Producing rotational and tapping motion on multiple sieves.
Repeatable results over a wide range of sieve sizes.
A Standard of the Sieving World For Centuries, The DuraTap™ Also Takes a Lot of Abuse
More than 70 years ago, the first powered shaker was developed to duplicate rotation and tapping, then the standard motion of manual sieving. Over the intervening years, the original sieve shaker design has been the basis for many ASTM, ISO and other industry standards.
The DuraTap™ is an updated shaker that duplicates these sieving motions. It was ruggedized to overcome the maintenance and repair problems of the original rotating/tapping shakers known generically as RoTap©. Steel and alloy parts replace plastic and grease fittings to facilitate lubrication.
Rugged Construction: steel and alloy material, pre-delivery checkout: DuraTap™ is "burned in for over 4 hours. Easy Lubrication: Grease Fittings at wear locations.
Detailed Specifications
Particle Size Range : 150 mm to 125 mm
Sieve Sizes: 8"/12" diameter - 200/300 mm diameter
Sieve Capacity: Six (6) full height; Thirteen (13) half height 8" (200mm) sieves; Three (3) full height; Seven (7) intermediate 12" (300 MM) sieves
Amplitude: 1/18 inch (28 mm) by 3/4 inch (20 mm)
Batch Capacity: Approx.10 lb (5 kg)
Amplitude: Fixed ¾ inch
Timer: Digital range of 2 seconds to 100 minutes
Wet Sieving: No
Speed: Approx. 275 oscillations/min - Approx. 152 taps/min
Drive/Sieving Motion: Electric Motor - Oscillation and Tapping
Weight: 200 lb (91 kg)