EFL 300 Sieve Shaker
Featured Product from CSC Scientific Company, Inc.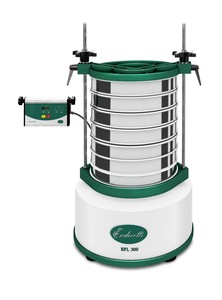 The EFL 300 combines the best features of the EFL 2000 with the most up-to-date sieve shaker technology. It is just as robust and lightweight as its predecessor, but even more powerful. Advantages of this shaker include:
A new electromagnetic drive.
Adjustable amplitude.
Floor or table mounted.
Suitable for wet or dry sieving.
Digital controls for easy and reliable operation via external interface.
Economical.
Heavier and larger samples can be sieved with the new EFL 300. It is extremely versatile. Amplitude setting is now standard. The heavy electric motor is replaced by the electromagnetic system found in all modem sieve shakers. Its lighter form means that it can be either floor standing or even bench mounted making it suitable for the both laboratory and industrial environments. Sieving parameters are set by the remote control unit. Its functions are logical and very simple to operate.
When Do You Select The EFL Sieve Shaker?
Get the EFL when you need an effective motion that gets particles to spend the maximum time seeking openings rather than suspended in the air, and keeps sieve openings clear and free of blinding. Additionally, it's good for when you need this action on large size samples. Also consider the EFL if you need to do wet sieving.