First Touch Rotational Viscometer
Featured Product from CSC Scientific Company, Inc.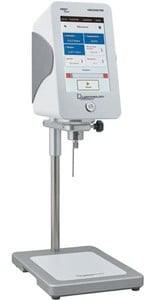 Simple QC Testing for Many Industries
For your ultra-sensitive measurements, the First Touch features a torque range of 0.005 to 0.8 mNm. The spring-less design makes the First RM a robust instrument for measuring dynamic viscosities.
This viscometer enables a fixed time for thixotropic samples. This model has a more limited measuring range than the RM 100, but the quality of measurement is just as high. The instrument can be controlled externally with the optional VISCO RM software.
The First Touch has:
A digital readout of the viscosity test conditions and results.
The capability to send results to a printer or computer.
A PT 100 temperature sensor(which indicates temperatures between -50 °C to +300 °C) to monitor the temperature of the sample.
The First Touch serves a special area of dynamic viscosity within the range of 3 to 180,000,000 mPa·s.