Octagon 200/200CL
Featured Product from CSC Scientific Company, Inc.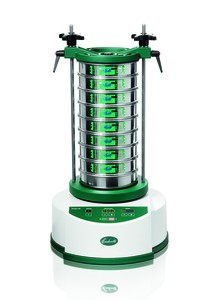 This shaker operates at a sound level that permits conversation during a test. It deals with difficult materials though a series of design elements
Intermittent/interval settings help break up sample clumps or agglomerations.
Amplitude control helps set a shaking motion that keeps the sample in contact with the sieve surface.
The electromagnetic drive system produces a 3D motion and gives the shaker a nearly maintenance-free operation.
Digital settings for time, amplitude and interval overcome set-up problems that can cause inconsistencies between tests.
Suitability for wet sieving gives you the ability to overcome friction, electrostatic and agglomeration problems in test samples.
The advanced 200CL model adds smaller amplitude adjustment steps (.01mm) and improved control of amplitude as well two modes of interval setting. These additional capabilities enhance the fine tuning of the entire sieve testing process.
The Octagon 200 series sieve shakers have the motion controls that help with the generation of a consistent and repeatable sieving program. And they are quiet.