Shear Rate - What Is It? Should You Care?
Featured Product from CSC Scientific Company, Inc.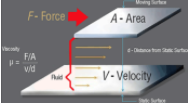 Viscosity - the force needed to move a liquid. What are the key viscosity measurements? Is viscosity measurement the same for Newtonian vs Non-Newtonian liquids? Read this informative blog to get these answers and more.

Play Shear Rate - What Is It? Should You Care? Video