Sinar AP Moisture Analyzer
Featured Product from CSC Scientific Company, Inc.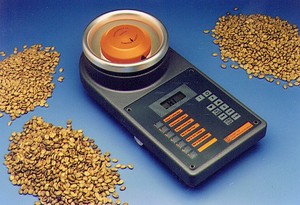 Portable, Rugged Capacitance Moisture Testing
The Sinar AP Moisture Analyzer is world renowned for quickly and accurately determining moisture content in coffee. From parchment and green (coffee) beans to roasted and ground coffee, the Sinar AP allows you to determine the quality of your coffee quickly and accurately without having to use charts, scales or thermometers. The Sinar's portable and rugged design ensures that repeatable and reliable testing can be done anywhere, whether it be in the field during harvest or during the roasting and grinding process. Not only is the Sinar accurate, all calibrations have been verified for accuracy and meet industry requirements. It offers crucial moisture readings in just 6 seconds.
Features
FAST
Receive moisture test results in 6 seconds.
ACCURATE
Revised calibrations ensure accurate results, +/- 0.03%.
PORTABLE
Battery operated unit weighs less than 2 kg, so you can test anywhere.
EASY
No need to grind your sample.
FLEXIBLE
Unit allows 7 calibration curves that you can choose from a large database, or you can make your own to meet all your testing needs.
ProductSpecs
Dimensions:
325 mm x 164 mm x 120 mm
Weight:
1.8 kg
Operating environment:
0°C to + 55°C
Storage temperature:
-20° to +55°
Humidity up to 95% non condensing
Construction:
Polyurethane Reaction Injection Moulding
Display:
3.5 Character. LCD 15 mm high
Power supply:
Four C size 1.5 V alkaline batteries
Processor:
Intel 80C31 microprocessor
Memory:
EPROM and RAM
Measurement range:
1-35% moisture, wet basis (depending on applications)
Print out:
RS232 C
Accuracy:
Typical standard deviation 0.3 for moisture (dependent on application and moisture level) and 1.0 for hectolitre (bushel) weight
Repeatability:
Standard deviation 0.05 to 0.15 (dependent on application)
Weight Balance:
Oscillating weight balance which also operates in non-horizontal position. Measures and corrects for weights between 20-240 grams.
Temperature corrections:
Thermistor sensor connected to microprocessor
The correction is software programmable
Temperature read out and correction 0-50°C
Full cell:
290 ml volume
Bias facility:
Moisture content and hectolitre (bushel) weight readings can be biased in increments of 0.1
Temperature:
°C or °F
Specific weight:
Hectolitre or Bushel weight readings