Sonic Sifter
Featured Product from CSC Scientific Company, Inc.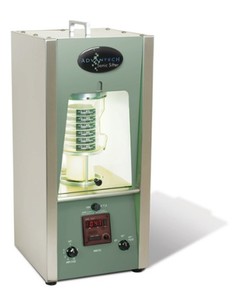 The Sonic Sifter performs particle separation as small as 3μm (microns). It does this by applying a vertical air column, oscillating at 60 times per second. This air column "tires" or lifts the particle off the sieve surface. A vertical mechanical pulse is added. This pulse shears agglomerates and reorients the particles in the air column. This particle sifter deals with the following problems:
Sieve wear (a particular problem in fine mesh sieves) is eliminated as no horizontal movement or scrubbing of the particles occurs.
Particles as small as 3μm can be separated (the theoretical limit of standard shakers is 20μm).
Curtails the extreme problems of agglomeration and static charge associated with small particle screening.
The ability to adjust power levels facilitates test settings that match different densities and other special characteristics of the test sample.
A light inside the unit and clear acrylic sieves lets you see the action of the particles to optimize the power adjustments.
In addition, the Sonic Sifter is maintenance-free, requiring only cleaning by wiping down with a damp cloth.
This particle sifter stands out for its capability for separating particles of 45μm or smaller.