END 130/3 PO Core Drill
Product Announcement from CS UNITEC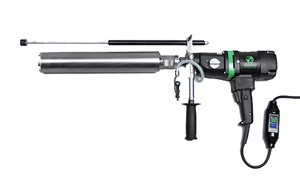 CS Unitec's versatile END 130/3 PO Wet Diamond Core Drill is a lightweight, robust system for professional wet core drilling in reinforced concrete, concrete, brick, block and stone. Weighing 16 pounds, it can be used hand-held for drilling up to 3" or stand-mounted for holes up to 6" diameter. A sturdy all-aluminum housing, combined with a compact size and powerful 15 AMP/110 Volt motor, provide a fast and efficient drilling system. The drill's heavy-duty design and power reserve make it suitable for continuous use. It is ideal for drilling holes in floors, walls and ceilings, as well as for concrete anchoring systems.
The END 130/3 PO has a mechanical 3-speed gearbox (0-600, 0-1300, 0-2800 RPM), allowing the operator to select the best speed for the core bit diameter. The result is optimum drilling and longer tool life. An Overload Indicator Light turns red when the motor is overloaded alerting the operator to reduce feed pressure and protect the motor. It includes an integrated GFCI to prevent electric shock for operator safety. A water swivel is built directly into the spindle for wet drilling. The built-in leveling bubble permits drilling at a 90 degree angle.
This wet diamond core drill is also available with an anchor stand (Model END 130/3 POSA) and a combination anchor stand and vacuum pump (END 130/3P POSV). Both models include a quick-change mount that allows the user to switch from hand-held to stand-mounted operation quickly and easily. The drill stand is fully adjustable up to 45 degrees. The total weight of drill and stand is only 37 lbs. Model END 130/3 POSV includes the anchor stand with vacuum pump and has a total weight of 45 lbs.
All models of the END 130/3P wet diamond core drills include a safety slip clutch, universal (standard) drill bit connecting threads and adapters (5/8" x 11 UNC and 1-1/4" x 7 UNC) and a convenient carrying case. Optional accessories include a centering aid, portable water tank, G 1/2" adapter and Unicore Diamond Core Bits. An optional water collection ring kit allows the drill to be connected to industrial vacuums for a cleaner work environment.
CS Unitec, Inc.
www.csunitec.com
Email: info@csunitec.com
Phone: 800-700-5919
---