MAB 1300 Magnetic Drill
Product Announcement from CS UNITEC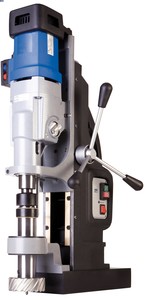 CS Unitec's new magnetic drilling machine, the MAB 1300, is designed for continuous use in heavy-duty drilling applications. The drill's powerful 20 Amp/110 Volt double-insulated, reversible motor is ideal for drilling structural steel and other metals. The versatility of the 4-speed oilbath gearbox (30-80, 50-120, 130-350 & 210-550 RPM) allows drilling of holes from 7/16" up to 5-1/8" diameter with annular cutters. Capabilities include large-hole tapping up to 1-5/8" diameter; twist drilling up to 1-3/4" and reaming up to 2". The MAB 1300 has a 1-1/4" arbor with an adapter for 3/4". The drill can also be used with a special-purpose cutting tool. The unit includes an integrated automatic cooling/lubrication system to increase the life of the annular cutters by reducing friction and wear.
The high-density, three-coil magnet has a holding strength of up to 23,600 pounds, providing the pulling power required for heavy-duty drilling. The Electronic Safety Shutoff Sensor automatically shuts down the drill motor if the magnet loses contact with the material. An internal cable routing system helps protect the motor power cord from external damage. The drill weighs 112 lbs. and is equipped with an eye-hook for lifting with a hoist.
Standard equipment includes a steel carrying case, safety chain, drift key and hexagon socket screw key.
---