New Non-sparking, Non-magnetic Hand Tools
Product Announcement from CS UNITEC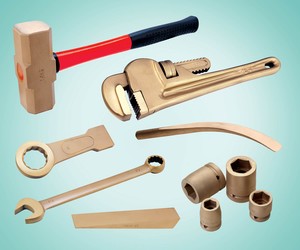 CS Unitec's new Non-sparking, Non-magnetic Hand Tools are manufactured from special Aluminum-Bronze or Copper-Beryllium alloys that meet ATEX regulations for safe use in Ex areas where hazardous, flammable or combustible vapors, liquids, dusts or residues may be present. This line of safety tools consists of hammers, flange wedges, striking wrenches, impact sockets, screwdrivers, shovels and other hand tools. They comply with the ATEX Directive stating that no tools which can cause sparks are permissible in Ex Zones 0, 1 and 2 (Flammable Gas, Mists or Vapors); Zones 20, 21 and 22 (Combustible Dusts) and M1 and M2 for mining. Each tool is laser engraved for the proper Ex Zone classifications indicating the zones for which it can be used.
Non-sparking Safety Tools from CS Unitec are specifically designed to eliminate the risk of sparks at sites where explosive atmospheres may be present. Appropriate applications include oil drilling platforms, petrochemical plants, oil refineries, natural gas installations, ammunition plants, varnish factories, sugar mills, grain silos, mining and other industries where non-sparking safety tools are required. The non-magnetic feature of these alloys also make them ideal for working on special machinery with powerful magnets such as MRI machines, military de-mining and explosives. CS Unitec's safety tools are forged for the highest quality in hand tools. Corrosion resistant, they are suitable for use in shipyards, laboratories, and paper and pulp mills, as well as in the pharmaceutical, food product manufacturing and wine industries.
For more information on CS Unitec's Non-sparking Hand Tools, please contact CS Unitec by phone at (800) 700-5919, by fax at (203) 853-9921 or by email at info@csunitec.com. Or, visit the company's Web site at www.csunitec.com to view the full line and other CS Unitec industrial tools and accessories.
---