PIPE-MAX Pipe Sander/Grinder
Product Announcement from CS UNITEC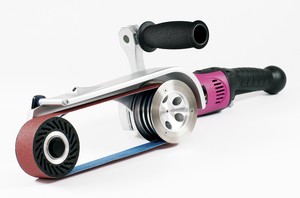 For surface finishing applications on pipe and hand rails, CS Unitec's new PIPE-MAX combination weld seam grinder and pipe sander renders weld seams invisible and can produce satin to mirror finishes on stainless steel, aluminum and high-quality metals. With a 14.5 Amp variable-speed (950 to 3500 RPM) electric motor that provides high torque, this tool efficiently deburrs, grinds and polishes closed and open pipe constructions from 3/8" to 12" diameter. It weighs 11.25 lbs.
The PIPE-MAX features a continuous sanding belt speed adjustment (from 33 to 100 ft./sec.) to accommodate the pipe material, as well as a continuous belt tightening adjustment to suit the pipe diameter.
A gas pressure cylinder system allows uniform grinding and makes pipe adjustments easier, reducing worker fatigue. The soft, elastic return roller gives the PIPE-MAX the flexibility to adapt to every pipe contour. Flat surfaces can be ground to remove spot welds and deep scratches, leaving no edges. The drive roller has replaceable rubber rings that ensure the grinding belts will not slip. Worn rings can be replaced quickly and at low cost. A balanced and adjustable handle allows for right or left-handed use, as well as side and comfortable overhead work.
CS Unitec offers an assortment of abrasive belts and polishing fleece for the PIPE-MAX. Sanding belts can be changed quickly and easily without tools.
For complete information on the PIPE-MAX and abrasives, please contact CS Unitec by phone at (800) 700-5919, by fax at (203) 853-9921 or by email at info@csunitec.com. Or, visit the company's website at www.csunitec.com to view the complete CS Unitec surface finishing product line.
---