PLANTEX® Flap Discs
Product Announcement from CS UNITEC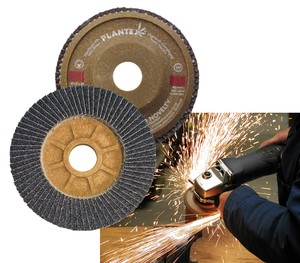 CS Unitec has introduced a new line of abrasive Flap Discs that utilize the PLANTEX® High-Tech Compound, a major advance in grinding performance. These patented discs are the first in the world with a backing plate made of natural hemp with a polypropylene binder. The abrasive flaps are 100% pure zirconium. PLANTEX is available in grits from 40 up to 120 for grinding steel and stainless steel
PLANTEX® Discs provide these advantages to the user:
superior grinding performance and service life, due to the heat absorbent, spring-like properties of the hemp fiber substrate.
self-trimming hemp backing plate – the disc automatically reduces in size during grinding, allowing 100% utilization of the abrasive fabric. PLANTEX® can be used to the last fraction of an inch.
safer working conditions resulting from the elimination of fiberglass, mineral fibers and epoxy resin, as well as the high insulating, damping and noise-reducing properties of the PLANTEX® compound.
Because the PLANTEX® compound is derived from hemp and bound with polypropylene, these Flap Discs are better for the environment in the following ways:
the growing of hemp, a sustainable raw material, counteracts the greenhouse effect by converting carbon dioxide into oxygen during photosynthesis
the PLANTEX® compound can be easily and safely disposed of as domestic waste
when disposed of by thermal methods, even the polypropylene binding produces almost zero residue.

Play PLANTEX® Flap Discs Video
---