PTX Eco Smart Linear Grinding System
Product Announcement from CS UNITEC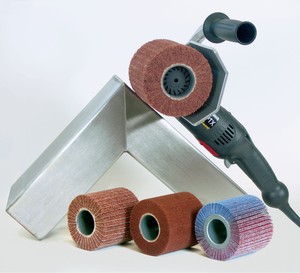 The PTX Eco Smart finishing machine has balanced straight line handling, high torque and electronic speed control. It easily produces matte, satin and other fine surfaces up to a mirror finish on steel, stainless steel and nonferrous metals. The PTX is also perfect for coarse grinding jobs such as removing welds, deep scratches, oxidation, rust and paint. It can also polish inside corners.

The PTX Eco Smart Professional Surface Finisher from CS Unitec has a patented abrasive mounting system that saves time, reduces costs and eliminates vibration. This unique system allows grinding and polishing wheels to be changed in seconds, without tools or hardware. The hollow-core abrasive wheel simply slides onto the PTX Eco Smart's finned, rigid rubber shaft. It then secures itself automatically when the machine turns.

The finned shaft design of this finisher makes it vibration-free during operations and ensures 100% concentricity. A wide selection of hollow-core abrasives is available for this linear grinder. The lack of a plastic core results in abrasive wheels and brushes that are lighter, easier to use and less expensive. The hollow core also minimizes pollution from production to waste disposal.
---