Pneumatic Cut-off Saws
Product Announcement from CS UNITEC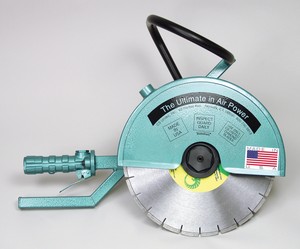 CS Unitec's heavy-duty, high-performance Pneumatic Cut-off Saws are designed for wet or dry cutting of concrete, reinforced concrete, asphalt, masonry, steel and other tough materials. The hand-held and walk-behind models cut up to 7" deep. All CS Unitec air cut-off saws can be used wet or dry; a 3/4" water connection port is built in. The saws accept either diamond or abrasive blades.
With no belts, pistons, fuel lines or carburetors, these CS Unitec Air Saws require very little maintenance. Furthermore, since they are air-powered, they produce no gas or engine fumes. They are ideal for working indoors or around water. Other features include built-in water connections, adjustable blade guards and in-line oilers for motor lubrication. Applicable industries include demolition contractors, utilities and municipalities.
CS Unitec's hand-held cut-off saws are available in three models.
The CSH-100 5 HP direct-drive saw has a max. blade capacity of 14", allowing it to cut up to 4" deep. It weighs 22 lbs., has a no-load speed of 5,250 and consumes 90 CFM at 100 PSI.
The CSH-125 9.5 HP gear-driven saw also has a max. blade capacity of 14" and a 5" depth of cut. Weighing 26 lbs., it consumes 92 CM at 100 PSI and has a no-load speed of 3,200.
The CSH-150 is also gear-driven, has a depth of cut of 7" and a max. blade capacity of 18". It weighs 28 lbs. and, like the CSH-125 consumes 92 CFM at 100 PSI and has a no-load speed of 3,200.
In addition, CS Unitec offers the CSR 150 Pneumatic Walk-behind Saw for cutting concrete and asphalt up to 7" deep. Weighing 107 pounds, this saw is easily portable between work sites. Designed for breaking out concrete and asphalt, this 9.5 HP saw is available with a blade capacity of up to 20" diameter. It is ideal for joint sawing, floor sawing, trenching, road repair and other cutting applications. The heavy-duty gearbox runs at 2,900 RPM and produces high torque output to cut hard materials. This model consumes 92 CFM at 100 PSI. It includes a splash guard for wet cutting applications. Rugged steel construction of the trolley ensures long life and reduced vibration.
Please visit the CS Unitec Website, www.csunitec.com, for complete specifications on these pneumatic tools. Or, contact the company by telephone at 800-700-5919, or 203-853-9522 or by email at info@csunitec.com.
---