Portable Hacksaws
Product Announcement from CS UNITEC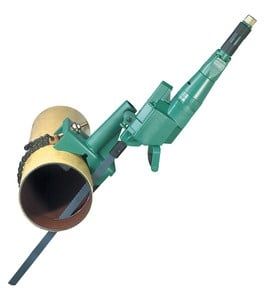 CS Unitec's portable pneumatic, hydraulic and electric hacksaws have the power and durability to stand up to the most demanding cutting applications. They are designed for on-site cutting of pipe, structural steel or tanks, including pipe repair and demolition applications. The compact design of CS Unitec's hacksaw allows cutting in confined spaces. They are ideal for use in tough environments such as chemical plants, refineries, power generation, offshore oil, pipeline construction, mining and marine industries.
The air-powered saws are certified to ATEX safety regulations EX 112 GcT5 for working in hazardous atmospheres and explosive environments classified as EX Zone 2. Labeled with the ATEX safety classification, this CS Unitec saw can eliminate time and manpower lost in obtaining "hot zone work permits" required for other tools, assisting in meeting tight schedules during process shut-downs and plant turn-a-rounds.
CS Unitec's line of hacksaws will cut pipe up to 24" OD and structural steel in one pass. They have a 2-3/8" stroke for heavy-duty cutting. They may be used manually or with a variety of clamps for pipe or profiles. Cutting with a clamp provides five times more leverage than freehand cutting. Also, the clamps and heavy duty saw blades ensure 90˚ cutting.
The company's pneumatic hacksaws, with 1.5 HP air motors, consume 51 CFM air volume at 90 PSI air pressure. Air hacksaw Model 5 1212 0050 has a lever throttle and provides an on/off paddle switch for manual cutting with a clamp. Model 5 1212 0010 has a roll throttle and can be used with an optional automatic feed pipe clamp.
The electric hacksaw (Model 5 1215 0070) has variable-speed control and operates at 100 to 350 strokes per minute. CS Unitec's hydraulic hacksaw (Model 5 1220 0050) has a 3.5 HP motor and oil flow of 4 GPM at 2000 PSI.
Heavy duty Hacksaw Blades from 8" to 37" long are available for all hacksaw models. The blades are available in HSS (M2) and HSS-SL with Molybdenum for cutting carbon steel, stainless steel and hard alloys. A saw blade guide is available to hold the blade straight, ensuring a right angle cut, even on large pipe diameters.
For more information CS Unitec's line of portable hacksaws, please contact the company by phone at (800) 700-5919, by fax at (203) 853-9921 or by email at info@csunitec.com. Or, visit the company's website at www.csunitec.com to view the complete CS Unitec industrial tool line.
---