ROLEI® BE 5
Product Announcement from CS UNITEC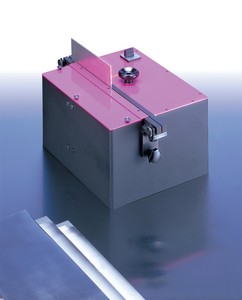 Double-sided deburring of metal sheets up to 0.2" thick can be achieved in a single pass with no additional treatment. CS Unitec's ROLEI BE-5 deburring machine has 2 speeds, which enable fine deburring at 600 RPM or standard deburring at 1200RPM. With optional guide rail extensions, it can be used to deburr large, thin sheets.
Two abrasive flap wheels rotate in opposite directions to grind both sides of the metal as it passes through. This deburrs both edges simultaneously. The flap wheels can be easily adjusted as they wear. One set of wheels lasts for approximately 6500 feet of stainless steel sheet.
The ROLEI BE-5 is supplied standard with two 80 grit flap wheels and can be used with optional grits (40, 60, 80 and 120 grit) to suit the facet width and materials of your particular application. Other accessories available include a machine stand, a port for industrial dust extraction and 28" long guide rails. This machine is available in 220V or 400V, 3-phase motor.
---