CHEVRON & VEE Packings
Featured Product from CT Gasket & Polymer Co., Inc.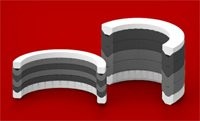 CTG, Inc. packing sets are light to heavy duty designs that have been in service worldwide for many years in harsh environment applications. The profiles of the packings provide sealing lips which are suited to applications where heavy side loads and high pressure peaks are encountered. Some typical applications for our packings are pistons, hydraulic presses, earth moving equipment, and any other reciprocating and/or rotating heavy duty assembly.
Each packing set is comprised of a base ring, two or more intermediate sealing rings, and a non-sealing head ring. The sealing rings have double lips to seal on both the bore and rod of a system. A 'V' shaped base on the header and intermediate rings allows the packing to respond automatically to changes in system pressure.
Standard packing sets are available with temperature ranges between -30° C to 130° C in hydraulic applications. By modifying materials, It is possible to adapt the packing sets to extreme conditions. With pressure ratings of up to 700 bar (10,000 PSI), CTG, Inc. can help size the perfect packing set for your application.