The machinery, the materials, and the expertise
Featured Product from CT Gasket & Polymer Co., Inc.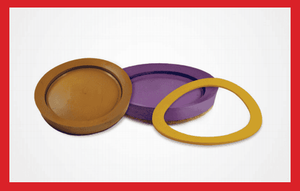 Custom Products
CTG has more than 30 years of experience producing components of all types from many different kinds of elastomer.
Examples of the types of products we have manufactuctured include:
A 6-in. thick, 55-durometer Viton® seal with an 18-in. O.D. and a 1-in. cross section
A 60-in. diameter kip seal made from FFKM Perfluoroelastomer
A 7-ft square phenolic pad with 29 holes

If you have a challenging problem, then call us, and our in-house engineering experts can design a solution for you.
Types of Custom Products
We have the machinery, the materials, and the expertise to manufacture the parts you need.
Commonly requested custom parts include:
Bellows
Bulbs
Bumpers
Bushings
Check balls
Connector seals
Convoluted boots
Cups
Diaphragms
Gaskets
Grommets
Inflatable seals and shapes
Isolators
Lip seals
Mechanical seals
Molded gaskets
Protective boots
Special plugs
Special seals and shapes
Valve seats, special seats
Applications
•Medical
•Oil and gas
•Semiconductor
•Aerospace
Benefits
•More than 30 years of experience working with elastomers
•We will work along side you to build your product
•High-quality and cost-effective solutions
•Same day service available
Why choose us?
For over 30 years CTG has been a top choice for industries such as chemical processing, oil and gas, semiconductor, pulp and paper, medial, industrial, and more. Why you might ask? High Quality. Prompt Delivery. Outstanding Service.