DHP8501 Digital Hydrophone
Featured Product from Cable & Supplies, Inc.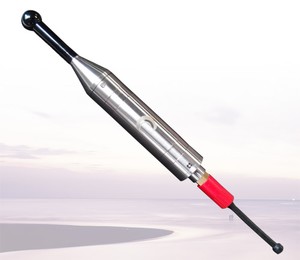 Digital Hydrophone is a new kind of acoustic single collection equipment, which join hydrophone with amplification modulation circuit, collection, storage and digital data transfer. Digital cable can be 70 meters, standard USD interface, easy to connect with computer system. It is very convenient to build up noise measurement and observation treatmentsystem for not using complex parts like: front amplifier, filter and collector. This hydrophone improve the system reliability and anti-interference, has the character of low noise, wide dynamic range, collection precision high, display absolute sound pressure value and relative sound pressure value.
Our company also service the point system as customer request, including more channels, different lines and interface, inset drive routine and so on. Customer also can get DSP processor development for 2nd time.
?Independent intellectual property rights. Best quality with reasonable price.
?General data interface, easy connection.
?Can be made by customer request, more series and models.
?Quickly and quality response and services.
Product function:
?Time domain waveform data collection, upload, storage, replay and control
?Statistical function for average value, max value of time domain waveform data collection.
?Implementation of power spectrum calculation, display function, frequency range plus and select frequency range gamma.
?Hydrophone sensitivity adjustment and compensation.
?Data recording underwater.
?Embedded secondary development function.
Usage field:
?Environment monitoring
?Ocean energy source exploration
?Ocean monitoring
?Wide scope noise measurement install in Argo buoy
Specifications:
Working Frequency: 7Hz ~ 80kHz
Sensitivity: >-210 dB
Working Direction: Omni
Sample Rating:
7Hz ~ 20kHz (rating: 48kHz)
7Hz ~ 40kHz (rating: 96kHz)
7Hz ~ 80kHz (rating: 192kHz)
Receive Dynamic Range: 80 dB
Test Precision: 1.5 dB
Data Interface: USB 2.0
Capability: 32G
Electronic Power: DC5V, 600mA
Dimensions (D x H): 43mm x 250MM