High Temperature Geophone
Featured Product from Cable & Supplies, Inc.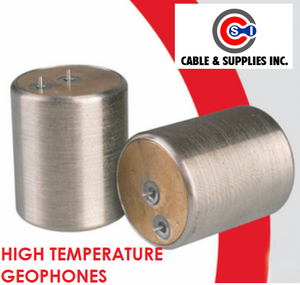 The HT series is high temperature resistant geophone. It has precision engineered components and state of the art testing indicates a very stable signal, great disturbance resistance, high spurious frequency and reliable parameters
These high temperature geophones have been tested at 200 degree C for over 300 hours, continuously, and to a temperature of 215 degree C with no signs of specification deviations.
Our engineering team can provide you with HT geophones with the nature frequency of 8Hz and 15Hz. Our team can adapt all variables and design a product that meets you specifications and specific requirements.
See the specifications & data sheet HERE