Cablevey Pet Food Conveyors
Featured Product from Cablevey Conveyors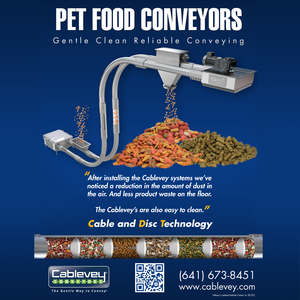 Pet food varieties proliferate as pet ownership grows
Pet parents are dedicated to their animal companions, as illustrated by the rise of specialty pet foods and the overall market increase for pet foods and treats, expected to post a 5.8% CAGR for the next few years. Quality also partners with convenience as consumers look to customized blends and mixes designed for specialized diets, tailored meal plans, or healthy treats. Among those customized products, organic and vegan pet food varieties continue to rise in popularity, topping $22 billion in 2020. This is attributed mainly to Millennials, the largest segment of pet owners, mimicking their own personal eating habits.??
Maintain hygienic standards with tubular conveyors
Pet foods take a variety of different forms and sizes. From kibble to seeds or pellets and nutrients, Cablevey tubular drag conveyors are designed to handle a variety of common (and uncommonly) used pet foods within the industry. Our systems move pet food products from mixers and blenders to packaging or other processing within the production facility.
Tubular conveyors help streamline pet food processing and maintain both quality and proper proportions in nutritional mixes, snack foods, and other pet food products, product characteristics important to pet food purchasers. Cablevey conveyors are built to withstand repeated washdowns and sanitary cleaning procedures standard in pet food processing in keeping with sanitation requirements. The system design transports products over long distances while preserving part and piece integrity, an essential quality characteristic in the finished product.