Cablevey Snack Food Conveyors
Featured Product from Cablevey Conveyors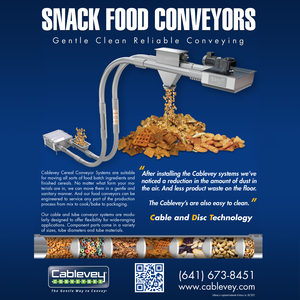 Our cable and tube conveyor systems are modularly designed to offer flexibility for wide-ranging applications. Component parts come in a variety of sizes, tube diameters, and tube materials.
Cablevey provides the right technology
Major components of today's popular snack foods are often not that complex, containing little more than sugar, salt, fat, flour, dried fruit, nuts, and other crunchy additives.
Cablevey's tubular cable and disc system is perfectly suitable for conveying these brittle and powdery materials without breakage and in a sanitary way. Moving materials without breakage is especially important in snack food manufacturing since no consumer would want to buy a bag full of broken crackers or potato chips.
Cablevey can be your partner when developing new formulations, creating a product, and testing the market. Cablevey enclosed tubular drag conveyors are custom-designed and can fit into any processing scheme and manufacturing space. Our conveyors can be engineered to service every part of your production process – from mixing to baking/cooking to packaging. We have equipped numerous snack food facilities (from small to large) in dozens of countries worldwide.