Cal Quality selected by NASA
Service Detail from Cal Quality Electronics, Inc.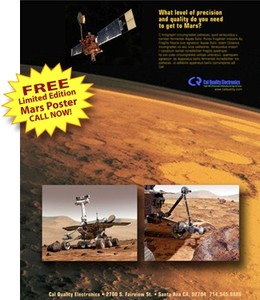 The MSL is an extremely complex, one-of-a-kind, very expensive robotic spaceship. It carries an equally technically challenging robotic geologist on board. NASA demands the utmost in quality and reliability because we have one chance - one spacecraft, one rover and one mission to get it right. In an endeavor this complex, thousands of things could go wrong. Our job is to make sure everything goes RIGHT.
Project Features:
Robotic Mobile Science Laboratory
Operational lifetime - One Mars year (687 days)
Must endure extreme events and conditions and remain responsive
Why Cal Quality has the "right stuff"

Cal Quality has two fully implemented principles that govern its QA program:
1. Accountability
2. Traceability
---