Custom and Rotary Die Cutting Services
Featured Product from Can-Do National Tape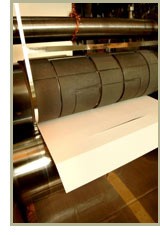 Can-Do National Tape operate high-speed rotary die presses in order to produce large quantities and tight tolerance precision parts. Also, Can-Do operates flatbed presses for shorter run quantities and thicker materials. Flatbed presses use less expensive steel-rule dies while rotary die presses require more expensive dies. Almost any shape and size may be cut; and the cut may go all the way through, making individual pieces; or it may go through only to the adhesive-side liner paper so that parts may be peeled away from the liner.
Each of their several rotary die cutting presses offers different features that allow Can-Do to select the best production process. Can-Do also operates several different flatbed presses. The tonnage and bed size vary, and their converting manager is able to select the most appropriate machine for the job.
Die cut materials include:
Foil products

Felt with adhesive backing

Many different foam products. Foams are open and closed cell and range from low to high density.

Also, Can-Do die cuts different materials and substrates with custom adhesive systems. Demanding quality standards, with ISO 9001:2000 Certification, allow them to supply the automotive industry.