How a tape converter can make your life easier
Service Detail from Can-Do National Tape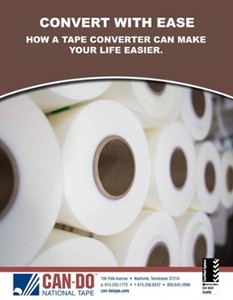 Finding some tape isn't fitting perfectly in your design? Consider converting it into something useful.
Download our free guide to Convert with Ease
Never settle with tapes. By leveraging a tape converter you can take advantage of highly customizable tape products to meet specific needs in virtually any industry.
In our free document, Convert with Ease, we will look at some of the most advantageous and widely-used tape converting services available.
This 12-page guide includes the following topics:
Die-Cutting
KISS-Cutting
Laminating & Adhesive Coating
Sheeting
Slitting
Tape Converters
Need Help Choosing The Right Adhesive? Not Sure How To Prep The Surface?
Download our free Guide to Better Bonding
Need Assistance with Troubling Design Issues? See What Tape Can Do!
Download our free Guide to Solving Design Issues with Adhesive Tape
Not Sure How To Move Forward with Aerospace Manufacturing Challenges?
Download our free guide to Aerospace Solutions with Adhesive Tape
Looking for Better Results with Automotive Manufacturing Challenges?
Download our free guide to Automotive Solutions with Adhesive Tape
In Search of a Flexible Bonding Solution?
Download our free guide to Flexible Bonding with Heat Seal Adhesive Tapes
Watch>>>Can-Do National Tape Corporate Video
Converting Ideas Into Reality
Can-Do National Tape was founded in 1972 as a Master Distributor of Adhesive Tape Products. We have many professionally qualified salespeople to assist you in determining the right product for your application. In addition, Can-Do's converting department has the production expertise to convert these adhesive products to your custom specifications.
Can-Do National Tape is "The Source" for all your tape and converting needs. We provide excellent service, quality products, and competitive prices. Our experienced sales force and customer service representatives are ready to assist you with any pressure sensitive adhesive tape requirement. We will be responsive to your needs. Can-Do National Tape is a service oriented company with approximately 60 employees. We are centrally located in Nashville, Tennessee, within 2-3 days UPS ground shipment to over 75% of the United States.
The Company is focused on customer service and quality and is ISO 9001:2008 Certified.Our Quality Statement is, "Can-Do National Tape is committed to providing the highest quality of pressure sensitive adhesive tape products and related services, at competitive prices, which meet or exceed our customer requirements, by and through continuous improvement and timely delivery of product, all as a result of ongoing communication with vendors, customers, and employees."
A Guide to Adhesive Tapes: