Prevent Noise in the Industrial Workplace
Featured Product from Can-Do National Tape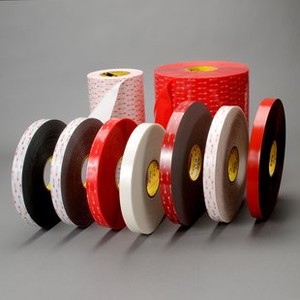 Prevent Vibrating Noise in the Industrial Workplace
Creating a quieter industrial workplace has become a growing priority as more awareness is raised about the health effects of noise exposure. In fact, OSHA regulates acceptable noise levels in the workplace to protect workers in all types of work environments. Additionally, a more sophisticated generation of consumers expect products such as vehicles and home appliances to offer much quieter operation than ever before.
Of the sources of noise in the operation of equipment, it's important to distinguish between structural noise and airborne noise. Structural noise results from mechanical vibration energy emitted by a product that travels throughout the structure as well as materials with which it comes in contact. Airborne noise is produced by the interaction of a vibrating surface with the surrounding air.
There are three primary ways to manage structural vibration and the noise that it creates:
Introduce a low friction surface between parts of a product that come in contact with each other.
Change the vibration mode of the structure by adding a vibration dissipating damping material.
Isolate the vibration from traveling from one part of the product to another, or to an adjacent structure
Airborne buzz, squeak, and rattle can be reduced by adding absorbers, barriers, and layers to absorb or reflect sound energy.
3M offers a wide range of solutions for managing the vibration issues that cause both structural and airborne noise.
Vibration Damping Tape
These tapes are applied to parts of a device that are prone to vibration. Made using a soft adhesive polymeric damping material and a thick aluminum foil, these tapes manage vibration through constrained layer damping. When the vibration occurs, the vibration energy is converted to heat.
VHB™ Tape
Used in assembly of panels, these tapes provide a visco-elastic layer between the two rigid surfaces. Vibration in either panel is constrained and converted into heat energy.
Slick Surface Tapes
Developed using low friction films, UHMWPE and PTFE, the films are coated with an adhesive for easy application in places between vibration generating moving parts.
3M offers a variety of laminating adhesives, which can be used with a broad range of foam and cushioning materials to provide solutions that prevent noise emission from product surfaces.
Bumpon™ Protective Products
Rubber pads used to isolate parts, preventing the transmission of vibration; lined with an adhesive for easy attachment.
Thinsulate™ Acoustic Insulation
The unique fiber structure absorbs airborne noise energy; suitable for a variety of products.
E-A-R™ Business
Sound barrier materials that can be used to reflect air-borne noise.
Can-Do Tape is your source for adhesive tape materials to manage vibrating noise. Contact us to discuss your project!
Need Help Choosing The Right Adhesive? Not Sure How To Prep The Surface?
Download our free Guide to Better Bonding
Need Assistance with Troubling Design Issues? See What Tape Can Do!
Download our free Guide to Solving Design Issues with Adhesive Tape
Watch>>>Can-Do National Tape Corporate Video
Converting Ideas Into Reality
Can-Do National Tape was founded in 1972 as a Master Distributor of Adhesive Tape Products. We have many professionally qualified salespeople to assist you in determining the right product for your application. In addition, Can-Do's converting department has the production expertise to convert these adhesive products to your custom specifications.
Can-Do National Tape is "The Source" for all your tape and converting needs. We provide excellent service, quality products, and competitive prices. Our experienced sales force and customer service representatives are ready to assist you with any pressure sensitive adhesive tape requirement. We will be responsive to your needs. Can-Do National Tape is a service oriented company with approximately 60 employees. We are centrally located in Nashville, Tennessee, within 2-3 days UPS ground shipment to over 75% of the United States.
The Company is focused on customer service and quality and is ISO 9001:2008 Certified.Our Quality Statement is, "Can-Do National Tape is committed to providing the highest quality of pressure sensitive adhesive tape products and related services, at competitive prices, which meet or exceed our customer requirements, by and through continuous improvement and timely delivery of product, all as a result of ongoing communication with vendors, customers, and employees."
A Guide to Adhesive Tapes: