Stopping Spread of COVID-19
Featured Product from Can-Do National Tape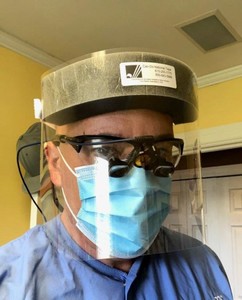 Face Shields Effective for Stopping Spread of COVID-19
According to a recent Wall Street Journal article, face shields are playing a highly effective role in stopping the spread of COVID-19. Masks that cover the nose and mouth may not alone provide adequate protection. In medical settings, face shield use has been growing to prevent infectious disease spread, and now medical professionals are recommending face shield use be adopted beyond medical settings.
In the article, medical experts were asked about the effectiveness of face shields, both as personal protective gear, and as a method to stop transmission of COVID 19. According to Daniel McQuillen, vice president of the Infectious Diseases Society of America and infectious disease physician at Beth Israel Lahey Health in Boston, the eye protection face shields offer is very important. The virus is transmitted primarily through droplets expelled from an infected person as they cough, sneeze, or speak. If those droplets land in the eye of someone within close proximity, that person will become infected. This is why the full face protection provided by face shields is so beneficial. The shield also provides a more substantial barrier to spread when worn by an individual who may be unknowingly infectious.
Another critical advantage of face shields that the article mentions is that they are much less difficult to wear and breath in for extended periods. Wearers are less likely to touch their faces in an attempt to make adjustments, as they would in a nose and mouth mask.
Can-Do is pleased to be an affordable source for disposable plastic safety shields for personal face protection. Featuring a 1.5" foam headband and elastic strap, these face shields are comfortable to wear and easily accommodate glasses or protective eyewear. They are lightweight, low-cost, and in-stock for immediate shipment.
A Wide Range of Industry Experience
Can-Do National Tape has earned recognition as a leading adhesive tape converter to the appliance, automotive, industrial, electronics and medical industries, supplying adhesive tapes and related materials for all facets of production. Can-Do sales associates are trained to assist the customer in locating the best quality material to fit the application.
In Search of a Flexible Bonding Solution?
Heat seal adhesive tapes provide a flexible and reliable permanent bond for a diverse range of materials. In textiles, heat seal adhesives eliminate bulky seams and stitching. Other industries are now discovering the advantages of heat seal thermoplastic film tapes in laminating, molding, and welding applications.
Our free eBook, Flexible Bonding Solutions with Heat Seal Adhesive Tapes shows you ways adhesive tape products have helped engineers meet and achieve their goals for innovation and productivity.
This guide includes the following topics:
Heat Seal tapes
Sewfree® tapes
Waterproof seam tapes
What to look for in a tape supplier
Watch>>>Can-Do National Tape Corporate Video
Need Help Choosing The Right Adhesive? Not Sure How To Prep The Surface?
Download our free Guide to Better Bonding
Need Assistance with Troubling Design Issues? See What Tape Can Do!
Download our free Guide to Solving Design Issues with Adhesive Tape
Not Sure How To Move Forward with Aerospace Manufacturing Challenges?
Download our free guide to Aerospace Solutions with Adhesive Tape
Looking for Better Results with Automotive Manufacturing Challenges?
Download our free guide to Automotive Solutions with Adhesive Tape
In Search of a Flexible Bonding Solution?
Download our free guide to Flexible Bonding with Heat Seal Adhesive Tapes
Converting Ideas Into Reality
Can-Do National Tape was founded in 1972 as a Master Distributor of Adhesive Tape Products. We have many professionally qualified salespeople to assist you in determining the right product for your application. In addition, Can-Do's converting department has the production expertise to convert these adhesive products to your custom specifications.
Can-Do National Tape is "The Source" for all your tape and converting needs. We provide excellent service, quality products, and competitive prices. Our experienced sales force and customer service representatives are ready to assist you with any pressure sensitive adhesive tape requirement. We will be responsive to your needs. Can-Do National Tape is a service oriented company with approximately 60 employees. We are centrally located in Nashville, Tennessee, within 2-3 days UPS ground shipment to over 75% of the United States.
The Company is focused on customer service and quality and is ISO 9001:2008 Certified.Our Quality Statement is, "Can-Do National Tape is committed to providing the highest quality of pressure sensitive adhesive tape products and related services, at competitive prices, which meet or exceed our customer requirements, by and through continuous improvement and timely delivery of product, all as a result of ongoing communication with vendors, customers, and employees."
A Guide to Adhesive Tapes: