The right type of masking tape
Featured Product from Can-Do National Tape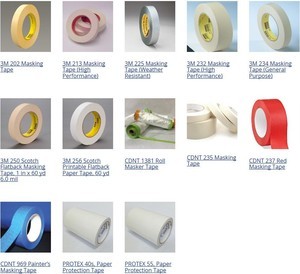 Masking Tapes to Protect, Mask, Stencil, Pack and Bundle
Achieve the best surface protection, painting mask, stenciling, packing and bundling with the right type of masking tape. Best masking tape manufacture for custom masking tapes, flexible masking, automotive paint masking tape from thermal spray to high temp masking tape for cars. Can-Do National Tape also stocks general purpose masking tape and maintains an inventory of colored masking tapes and masking tapes that are used in high performance or high temperature applications. Our knowledgeable sales force will assist you in identifying the best masking tape for your application. Other typical applications include light duty packing, bundling, holding, sealing and surface protection, painting mask, spraying mask, and stenciling mask.
Convert Custom Masking Tape into Custom Shapes and Sizes for Different Applications
Masking Tapes are crepe paper surfaced with adhesive systems that vary depending on temperature and other application issues. Masking tape is an adhesive tape that has many general purpose uses, but masking tape can also be highly engineered to perform specific masking functions.
General Purpose Masking Tape
General purpose masking tape is used for light duty bundling, holding items in place, and for flagging and marking. General purpose masking tape consists of a crepe paper backing and a rubber based adhesive system. The thickness and strength of the paper may vary, and the adhesive may have different properties as well. So, there are many types and grades of "general purpose" masking tape.
High Temperature Masking Tape
Masking tape is used extensively in painting applications where heat is needed. High temperature masking tapes provide excellent bonding to surfaces during paint application with oven drying requirements in excess of 250 degrees Fahrenheit. Some paint applications require such high temperature resistance that the backing of the masking tape may in fact be polyimide film, not paper.
Low Temperature Masking Tape
Lower temperature masking tapes have crepe paper backing and are used for masking applications in the transportation industry and for protection against spray painting. These masking tape products are highly conformable to irregular surfaces; the adhesive removes cleanly; and they provide straight paint lines, avoiding fuzziness or bleeding. Masking tapes used for painting homes are rated by how long they can stay up without leaving a residue when removed. These tapes are typically blue; and the longer they stay up, the less adhesive they have.
Need Help Choosing The Right Adhesive? Not Sure How To Prep The Surface?
Download our free Guide to Better Bonding
Need Assistance with Troubling Design Issues? See What Tape Can Do!
Download our free Guide to Solving Design Issues with Adhesive Tape
Converting Ideas Into Reality
Can-Do National Tape was founded in 1972 as a Master Distributor of Adhesive Tape Products. We have many professionally qualified salespeople to assist you in determining the right product for your application. In addition, Can-Do's converting department has the production expertise to convert these adhesive products to your custom specifications.
Can-Do National Tape is "The Source" for all your tape and converting needs. We provide excellent service, quality products, and competitive prices. Our experienced sales force and customer service representatives are ready to assist you with any pressure sensitive adhesive tape requirement. We will be responsive to your needs. Can-Do National Tape is a service oriented company with approximately 60 employees. We are centrally located in Nashville, Tennessee, within 2-3 days UPS ground shipment to over 75% of the United States.
The Company is focused on customer service and quality and is ISO 9001:2008 Certified.Our Quality Statement is, "Can-Do National Tape is committed to providing the highest quality of pressure sensitive adhesive tape products and related services, at competitive prices, which meet or exceed our customer requirements, by and through continuous improvement and timely delivery of product, all as a result of ongoing communication with vendors, customers, and employees."
A Guide to Adhesive Tapes: