Where impact cushioning is a must
Featured Product from Can-Do National Tape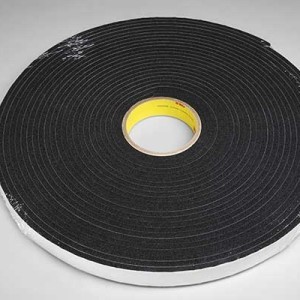 Best in applications where impact cushioning is a must and long-term outdoor exposure is expected
PVC Vinyl closed cell foam comes in several densities of Black or Gray and in numerous thicknesses. PVC Foam can be supplied with or without adhesive.
Typical applications for PVC foams are seals and gaskets used to seal out air, dust and light moisture.
PVC foams are resistant to most solvents and chemicals and easily fabricated to meet your specific application.
Foam tapes are used for sound dampening, insulating, gasketing, cushioning/padding, and sealing and are designed to enhance the appearance and improve the overall performance of your product design. Each foam tape has unique features and ideal purposes. Some of these tapes are available in a variety of thicknesses, adhesives, carriers and sizes. The normal temperature range that foam tape can withstand is -40°F to 300°F. Foam tape resists moisture, ultraviolet rays from the sun, and solvents, providing high bonding strength to compensate for different thermal expansions.
It's important to pay close attention to the specific properties of each foam tape to decide which is best for your application. Variations in foam tape densities, thicknesses, adhesive systems and cell structure allow for a great variety of end uses. The success of your end product depends on securing the foam tape that best fits your needs.
Foam Categories:
Open Cell Foam: Urethane Foam, Polyester Urethane (PU Ester), Polyether Urethane (PU Ether), Microcellular, Open Cell Sponge, Sponge Rubber, Felt, Melamine Foam, Polyimide Foam,
Closed Cell Foam: Silicone Foam, PVC Foam, Neoprene Sponge Blend, Cross-Linked PE Foam, EPDM Foam Blend, Cork, EVA Foam, Nitrile Sponge Blend
Solid Rubber: Natural Rubber, SBR, Butyl Rubber, Santoprene, EPDM Rubber, Silicone Rubber, Neoprene Rubber, Buna Nitrile
Properties of Foam Tape
Various types of foam tapes are ideal for use in appliances, automotive applications, electrical/electronics, shower and bath, truck/trailer/RV, point-of-purchase signage, window fabrication, and plastic molder/extruder applications. It is often used in place of mechanical fasteners (rivets, bolts, screws, and welding materials) because of its ability to withstand a high level of vibration, its high strength and its durable seals against cold, dust, gas, liquid, sounds, etc.
We market 6 distinct varieties of Foam Tape:
Polyethylene foam tapes
Neoprene EPDM Blend foam tapes
Polyether & Polyester Urethane foam tapes
PVC Vinyl foam tapes
Vinyl Nitrile foam tapes
EFO EPDM foam tapes
How Are Foam Tapes Used And Applied?
Foam tapes are used in a large amount of bonding and sealing applications. Examples of foam tape applications and uses include the automotive industry such as bonding plastic emblems onto metal substrates, sealing windows, doors, sun roofs, and trunks/hatches. Foam tapes are also used extensively in the HVAC and construction industries for various applications.
Another common use for foam tapes include weatherstripping. You will usually see it placed along doors and windows to keep cold and hot air outside. When there is an insufficient seal around a window or door, foam tape is great for sealing the gaps and offering a solid, long-term, cost-effective solution to replacement.
Foam tapes are also used as a gasketing tapes. Adhesive-coated foam tapes are compressible sealants that close up an area between two matched sheets of glass, machine parts or around pipe joints to prevent the escape of a gas, fluid, air, or sound. Some areas of use include electrical enclosures, shed doors, and garage doors. Foam tapes are an excellent alternative to rubber foams or sealants/caulk.
Converting Ideas Into Reality
Can-Do National Tape was founded in 1972 as a Master Distributor of Adhesive Tape Products. We have many professionally qualified salespeople to assist you in determining the right product for your application. In addition, Can-Do's converting department has the production expertise to convert these adhesive products to your custom specifications.
Can-Do National Tape is "The Source" for all your tape and converting needs. We provide excellent service, quality products, and competitive prices. Our experienced sales force and customer service representatives are ready to assist you with any pressure sensitive adhesive tape requirement. We will be responsive to your needs. Can-Do National Tape is a service oriented company with approximately 60 employees. We are centrally located in Nashville, Tennessee, within 2-3 days UPS ground shipment to over 75% of the United States.
The Company is focused on customer service and quality and is ISO 9001:2008 Certified.Our Quality Statement is, "Can-Do National Tape is committed to providing the highest quality of pressure sensitive adhesive tape products and related services, at competitive prices, which meet or exceed our customer requirements, by and through continuous improvement and timely delivery of product, all as a result of ongoing communication with vendors, customers, and employees."