As the Coil Turns: Plating Services for Springs
Product Announcement from Capital Spring, an MW Industries Company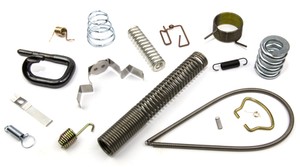 Design and manufacturing services tailored for client requirements have long been a hallmark of Capital Spring, an MW Industries Company. In addition to a portfolio providing more spring selections and wire diameters than the competition, the company offers zinc plating for corrosion control as part of its spring fabrication process.
If exposed to certain elements, steel can rust and degrade, which can lead to spring failure. Zinc plating provides a protective barrier against corrosion without modifying the spring's properties, and Capital Spring offers more than one option to help customers combat product corrosion.
The most common plating process entails applying the surface coating mechanically by tumbling zinc powder, glass balls and the spring products in a rotating drum. The balls serve to disperse the powder as the springs are plated and protected. Another route made available by Capital Spring is the use of pre-plated wire secured from the company's distributors. The zinc coating is applied to wire prior to the final drawing operation. Click to continue reading.
---