Tethered Vinyl Caps You Won't Lose
Featured Product from Caplugs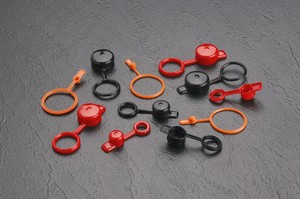 Caplugs announces their new line of vinyl caps with a tether strap. These caps are ideal for use on compressed gas valves that often require frequent removal and reapplication of the cap. The tethered end allows the cap to hang freely from the valve when the cap is not in use, but keeps it attached to the valve so it's quick and easy to find when it needs to be reapplied to protect the valve.
The vinyl material offers a snug fit and cushioning to protect the valve from impact, damage and contamination. These caps have a high gloss finish with smooth, contoured ends and a smooth flat top. Soft but tough vinyl, these caps will not tear, rip, or shred when stretched over the sharp threads on a valve.
Caplugs vinyl tethered caps are available in a wide variety of colors to help with tank/valve designation. These caps are often used to color code showing old tanks, empty tanks, dysfunctional tanks, and more. These caps can also be pad printed with instructions, warnings, or company contact information.
Visit www.caplugs.com for more information and to request free samples. To speak with a customer service representative, call 1-888-CAPLUGS.