1100°C & 1200°C Rapid Heating Box Furnaces
Product Announcement from Carbolite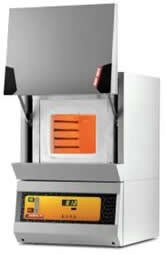 Carbolite's RWF furnaces are ideal for light to medium duty applications where rapid thermal response is a primary requirement. The units are equipped with powerful, free radiating coiled wire elements that are held firmly in the sides and roof of the chamber.
The combination of the high powered elements and then furnaces low thermal mass insulation provides a heat up time from ambient to 1100C in as little as 10 minutes. These furnaces are available with chambers sizes of 5, 12, and 23 liters with maximum temperatures of 1100°C and 1200°C.
Maximum operating temperatures of 1100°C or 1200°C.
Three chamber sizes available.
Extremely fast heat-up rates provided by two high power side heating elements.
Graded element winding and free radiating coil design provide excellent chamber uniformity.
Vertical lift door design keeps hot door insulation away from operator.
Holding Power of 20-25% for RWF furnaces reduces energy costs.
Positive break door safety switch isolates power to the heating elements when door is opened.
High efficiency low mass vacuum formed ceramic fiber insulation greatly enhances furnace performance.
Hard ceramic hearth provides excellent resistance to wear and spillage.
Chamber vent provides for process exhaust.
Low outer case temperature provided through double shell construction.
Choice of Model 301 control or programmers.
Small case size conserves bench space.
Serviceability is aided by furnace mechanical and electrical design.
Choice of multiple accessories and options.
To request more information, please click here!
---