1100°C Drop Down Door Laboratory Furnaces
Product Announcement from Carbolite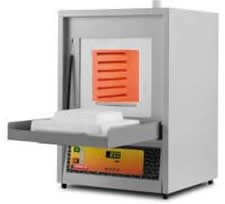 The ELF range is bench mounted with a maximum temperature of 1100°C and is available with chamber capacities of 6, 14 and 23 liters. These furnaces are ideal for light duty, general laboratory work. The digital Carbolite 301 controller is fitted as standard and has an adjustable single ramp to set point as well as a built in timer that allows for a delayed start or fixed process duration.
Excellent chamber uniformity.
Drop-down door serves as a shelf when loading and unloading samples.
Positive break door safety switch isolates power to the heating elements when door is opened.
Fast heat-up enhanced by low mass ceramic fiber chamber.
Long-life heating elements.
Integral Model 301 PID temperature controller.
Ideal for light duty applications requiring good thermal response.
Low outer case temperature provided through double shell construction.
Dense ceramic hearth provides excellent resistance to wear and spillage.
Chamber vent provides for process exhaust.
Small case size conserves bench space.
Designed to operate on either 208 or 240V
To request more information, please click here!
---