Carbolite 1600°C Microwave Assist Furnace
Product Announcement from Carbolite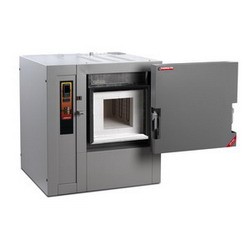 Carbolite's Microwave Assist Furnace has been developed to use in combination, radiant heating elements and microwave energy using a method pioneered by UK technology and innovation partner Ceralink, Inc.
The MRF furnace offers a number of improvements including - sintering densities at lower temperature, using less energy. Sequential removal of binder (burn-off) and sintering, by preferentially heating binders. Reduced energy consumption by rapid direct heating of the sample.
More uniform heating effects throughout the sample providing similar crystal structure and phase boundary properties at the service and within the samples interior.
CMAT - unique in being the first standard design Microwave Assist Technology (MAT) furnace.

- 1600°C maximum operating temperature;
- 22 litre chamber capacity;
- 20 segment programmable PID control;
- Over-temperature protection;
- Independent control of microwave & radiant heating;
- Manual or programmable control of both heat sources;
- 9 kW radiant heating;
- 1.8kW microwave heating source;
- Double safety interlock cuts power on door opening;
- Meets BS EN 60519-6:2002 Part 6.1 safety limits for microwave containment;
- RS232 communications.

Options (to be specified at time of ordering)
- Store & re-use additional programs;
- RS485 communications;
- Fixed or wheeled stands.

220-208V Delta, 220-240V Delta, 380-415V 3-PH +N
To request more information, please click here!
---