Carbolite 1700 and 1800C Tube Furnaces
Product Announcement from Carbolite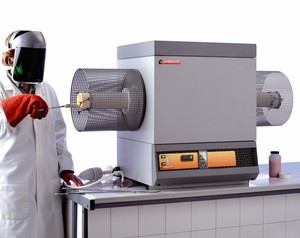 The CTF furnaces have a maximum operating temperature of 1700°C & 1800°C. These furnaces accept a 3.5" (90mm) O.D. worktube and are available in heated lengths of both 12" (300mm) and 23.75" (600mm). The CTF models are fitted with our 3216P1 programmable controller and our Over Temperature Protection controller.
The furnaces utilize Molybdenum Disilicide heating elements which are arranged vertically around the worktube, ensuring excellent thermal uniformity throughout the heated length. The CTF furnace's can be adapted to allow a non-oxidising atmosphere or vacuum, by fitting a longer length worktube and gas tight end seals.
General applications for this furnace include sintering alumina, smelt trials and checking Al2O3 content in Alumina. Applications in the Ceramics Industry might include disintegration, testing and analysis of cement samples, refractory porosity tests, long term high temperature tests and firing & sintering of ceramic samples.
For enhanced thermal uniformity, three zone models are also available.
For additional information, please call Carbolite at 920.262.0240 or e-mail us at sales@carbolite-usa.com or visit Carbolite High Temperature, Horizontal Tube Furnaces
---