Carbolite's 1100°C Rotary Reactor Furnaces
Product Announcement from Carbolite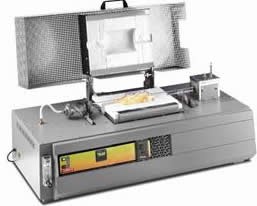 The Carbolite Rotary reactor Furnace is designed for laboratory scale calcination and the production of high temperature reactions in a wide range of materials.
The Rotary Reactor combines all the advantages of the fluidized bed furnace and the rotary kiln by providing both a controlled atmosphere and simultaneous agitation of powdered solids.
The furnace is available in two sizes, one with a maximum capacity of 1.7 oz (50 ml) and the other with a capacity of 23.6 oz (700 ml). The furnace has a maximum temperature of 1100°C.
Carbolite can provide continuous or batch rotary tube furnaces specifically designed to a customer's process requirement. The general design concept of such rotary tube furnaces is similar, but furnace and system specifications will vary based on process temperature, throughput, atmosphere requirements, characteristics of material, cooling requirements, etc.
To request more information, please click here!
---