Carbolite's 250°C and 300°C Laboratory Ovens
Product Announcement from Carbolite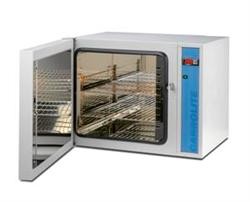 Carbolite's laboratory oven range provides a combination of excellent performance and reliability.
Our bench top ovens have a maximum operating temperature of 300°C and are available in six different chamber sizes - 27, 58, 115, 128, 215 and 230 liters.
Both gravity and forced air circulation designs are available with a wide choice of control options allowing the most critical performance criteria to be met.
Where processes involve the release of flammable vapors, a stoving and curing option is available. Also, where processes involve large amounts of water, a moisture extraction is available.
Carbolite's floor standing ovens, available in two chamber sizes, 400 and 800 liters, incorporate many of the heating and design specifications as found in our bench top units. These ovens are ideally suited for the drying of considerable quantities of glassware or large individual pieces.
Our floor standing, Laboratory ovens have a maximum operating temperature of 250°C.
To request more information, please click here!
---