Carbolite's Peak Series Incubators
Product Announcement from Carbolite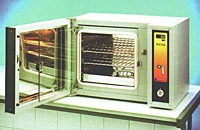 Carbolite's Peak Series Laboratory Incubators have a maximum operating temperature of 80°C and a minimum operating temperature 10°C above ambient. These laboratory incubators are available in either a mechanical convection or gravity convection design. A wide choice of control and programming options are available. The 400 & 800 liter capacities are floor standing models.
Heat up times are excellent and temperature stability with microprocessor three term control varies from ±0.2°C to ±0.5°C, depending on the model type.
The outer cases are fabricated from corrosion resistant zinc coated mild steel and finished in two tone, hard wearing stoved epoxy/polyester coating. The inner case is constructed from polished stainless steel. All units are provided with non-tilt bright nickel wire plated shelves with multi-position settings for convenient loading and unloading.
To request more information, please click here!
---