Laboratory Furnaces and Ovens
Product Announcement from Carbolite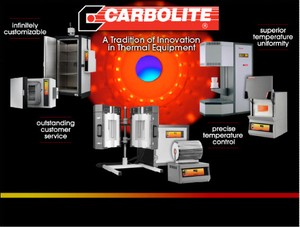 Carbolite is a world leading manufacturer and supplier of laboratory and industrial chamber and tube furnaces, ovens and incubators.
The head office and manufacturing base are located in the Peak District National Park, Derbyshire, England. Daughter companies are located in Ubstadt-Weiher in Germany and Watertown, WI in the USA.
The extensive portfolio offered by Carbolite includes both laboratory chamber furnaces and tube furnaces to 1800°C. Tube furnaces are available as single or multi-zone, horizontal/vertical, split and rotating models. A wide variety of tube diameters and heated lengths is available. Chamber furnaces are available in many sizes and models including high temperature furnaces, ashing/calcining furnaces, furnaces for the analysis of coal & coke and precious metals evaluation furnaces. In addition to the range of electric laboratory furnaces and ovens, Carbolite also offers an extensive range of pilot plant and industrial furnaces and industrial ovens for various heat treatment applications. Product ranges include: mesh belt furnaces, roller hearth furnaces, rotary hearth furnaces, top loading furnaces, top hat furnaces, blade strip hardening furnaces and elevator hearth furnaces.
Carbolite equipment is the standard against which heat treatment equipment is measured and as a result, Carbolite has a worldwide reputation for its range of laboratory and industrial furnaces & ovens. Carbolite's furnaces & ovens offer precise temperature control, excellent temperature uniformity & solutions for laboratory, pilot plant & industrial applications.
If the furnace or oven for which you're searching is not listed in our standard product range, we'd be delighted to offer you a quotation for a custom designed and built unit.
For additional information, please call Carbolite at 920.262.0240 or e-mail us at sales@carbolite-usa.com or visit Carbolite.us
---