ACQUIRE. ANALYZE. ARCHIVE.
Featured Product from Carestream NDT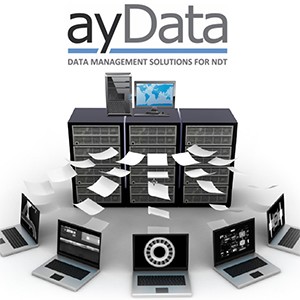 aycan NDT Archive for HPX Digital Systems
As industrial digital radiography continues to grow, so does the demand for the secure storage and easy retrieval of valuable commercial images.
That's why Carestream NDT and aycan Data Management, two global providers of NDT DICONDE data management, are partnering, combining Carestream HPX digital image acquisition products with the aycan NDT archive.
ACQUIRE. ANALYZE. ARCHIVE.
Seamlessly integrating this powerful combination delivers a fast, easy, secure and reliable archive solution for NDT
Features:
A powerful indexed DICONDE archive solution for Non-Destructive Testing images and information.
aycan NDT archive delivers a complete, scalable and flexible indexed Digital Imaging and Communication in Non-Destructive Evaluation (DICONDE) archive solution for non-destructive testing (NDT) images and information. With high performance features, aycan NDT archive can improve the workflow in any environment where reliability, quality, and security are of key importance.
Powerful Performance
aycan NDT archive's advanced indexing technologies provide fast, efficient, reliable and secure storage, retrieval, and validation of DICONDE images. Utilizing a central database, searching by component, date, or inspector has never been easier. By leveraging aycan NDT archive you now have a central digital "film vault" of all historical inspection data and records at your fingertips. Pre-inspection planning can easily reference prior inspection data and post-imaging analysis and reporting can be done by a central experts group and "in context".
Works in Any Environment
Ideal for robust on-site, multi-site, and off-site implementations, aycan NDT archive works in any environment where there is a need for fast, efficient, reliable, and secure storage and retrieval of DICONDE images and information. Key industry applications include:
Aerospace
Defense
Oil & Gas
Transportation
Shipping
Manufacturing
Easy to Integrate
aycan NDT archive's vendor agnostic, modular, and scalable architecture enables compatibility and quick and easy integration with DICONDE hardware and NDT technology.
Minimal System Requirements
Hardware Option
Dell PowerEdge server
Intel Xeon Processors
PERC H710 RAID or QLogic SAN HBA
1Gb and 10Gb Ethernet support
Virtualization Option
VMware ESXi 5.5 U1 or newer
Intel Xeon Processor based host
Minimum 18GB host RAM
Redundant SAN storage with RDM LUN support
Advanced, Easy to Use Features Deliver Outstanding Results
Audit Logging
Track all activity including image incoming storage, retrieval, send out, modify, and delete requests in complete process-independent logs.
Easy to use
Easily and instantly search tags like component name, part number, inspection date and more utilizing our central database backed "index". No need to worry about confusing and complex naming conventions and/or folder storage. aycan NDT image archive's "one click to query" is fast and efficient.
Flexible
Manages multiple long-term storage solutions and can scale to grow with your archival storage needs
Simplified multi-modal information sharing across the any number of end-users
Industry Standard
DICONDE E07.11 compliant non-proprietary solution for digitally storing and retrieving NDT images and information.
Meta data Editing
Fix data entry mistakes on the server without requiring a separate QA workstation
No tainting of capture timestamps when making changes
Native JPEG-Lossless
Enables storage space savings without compromising image quality or integrity.
Compression Related Scans
Immediately receive prior test images for the same component delivered direct to the inspection workstation without the need to search.
Scalable
Scalable storage either directly attached or via Storage Area Network (SAN) for large corporate IT deployments
Can grow simply without the need to copy data when you are ready to expand
Server 'role' based-processes for large deployments
Powerful and petabyte scalable WORM storage with the SilentCube option
Tailored
aycan meets with you to develop a customized solution to fit into your current/future NDT environment.
Turnkey Installation
aycan will thoroughly plan and prepare for the install before arriving on-site, so you are ensured of a smooth and timely installation.
Vendor Agnostic
Enables compatibility with other DICONDE hardware and software for quick and easy integration.
Virtual Archiving
Segregate data into different silos for group or division isolation with different access requirements based on a programmable rule set.
VPN Encryption
Keeps data traffic secure between sites. With the optional automatic off-site data storage, you can safely duplicate data for disaster recovery and other applications.
Benefits of a Digital Indexed Archive for NDT
Sharing
Central digital film repository for immediate access to all authorized Images
Quickly compare previous and reference images
Easily and securely share with colleagues inside the plant or around the globe
Storing images in native DICONDE to ensure compatibility with systems from all manufacturers
Security
Automated verification mechanisms to provide assurance to customers and auditors of image integrity and authenticity
Access controls to limit inspector access on a "need to know" basis
Backup options to provide copies of your image data and avoid loss
Elimination of artifact introduction from the mishandling and stacking of films
Certified hardware options for long-term (20+ years) image retention
Cost Savings
Elimination of expensive film storage rooms and off-site film archiving costs
Elimination of transportation costs and time delays
Silver recovery's return on investment to pay for digital migration
One solution to connect all of your digital inspection systems
Productivity
Immediate availability of images to all individuals and departments involved
Elimination of the many steps in the film-handling process
Elimination of image loss once it is digital
Increased flexibility from digital image manipulation tools such as dynamic contrast adjustment and measurement
Reduction of labor involvement
Tune into Carestream's NDT YouTube channel for video product demonstrations and feature overviews of our innovative imaging products.
Caresteam NDT Digital Training
Learn how to convert from film to a fully digital Imaging environment for all your NDT work.
Courses meet the guideline of:
Metals Affordability Initiative (MAI)
Federal Working Group on Industrial Digital Radiography (FWGIDR)
Defense Working Group on Non-Destructive Testing (DWGNDT)
Qualifies for (10) points towards ASNT NDT Certification renewals
Carestream NDT is a worldwide provider of X-ray imaging systems and products for non-destructive testing (NDT) including: computed radiography (CR) systems, digital system plates and cassettes, digital image archiving, film, chemicals, processing equipment and accessories.
Our innovative solutions enable our customers' success and help create a safer life for people around the world through the inspection of critical components in the aerospace, transportation, oil and gas, mining and energy industries. With our award-winning products, Carestream remains at the forefront of technological advancements in imaging for NDT applications.
Exceeding our customers' expectations in the markets we serve worldwide is our highest priority, and our ability to adapt and partner with customers makes it easy to do business with us. Our customers are the beginning and the end of everything we do. We understand and fulfill their needs in ways that are meaningful to them to help them excel in today's competitive markets.
Carestream has the radiology and IT expertise to help NDT professionals improve global communication of critical and time-sensitive image sharing and review. We have global sales and service teams, strong product platforms, solid market positions and a trusted brand and we are committed to helping NDT professionals control costs while maximizing product investments.
With an employee base passionate about delivering high-quality solutions to our customers, a portfolio of market-leading products and the financial strength to invest in our future, we are poised to build on our past success and continue to innovate and grow. We are proud to be part of the Onex (TSX: OCX.TO) family of companies since 2007. Onex is one of Canada's largest and most respected corporations.