HPX-PRO Portable CR System
Featured Product from Carestream NDT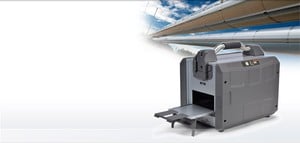 Carestream Industrex HPX-PRO Portable Digital System
CR for Anywhere NDT Takes You
The HPX-PRO Portable CR System is designed for high throughput digital imaging in rugged NDT environments. It's a lightweight (35lbs/16Kg), portable solution that can be set-up in less than 5 minutes and process a weld in up to a minute, producing high-quality digital images for quick analysis and rapid final reporting. HPX-PRO is a complete solution using Carestream's INDUSTREX software to scan, display and store your all your digital data.
Hardware Features:
Simple User Controls
Includes easy-to-read System Status, Power, and Ethernet Connectivity LEDs, with a separate LED scale for Battery Power.
Filter/Air Vents
Replaceable air filter to keep out dust and dirt.
Fold-up Feed Doors with Extensions
Both the entry and exit doors fold up to seal off the unit from dirt and dust when in transport or not being used. A magnet holds the doors closed. Each door has an extension to support up to a 17" long plate.
Detachable Handle
Can be removed via two Phillips screws to reduce height (to 14"). Mobile film labs don't have a lot of extra room and when you're trying to fit something between the bottom and top cabinets every inch counts.
Battery Holders
Includes powered mount for usage and storage mount for second battery, providing 4 hours of standby time and 45 minutes of imaging time per battery.
Mounting Bracket
Allows you to secure the unit to a mounting plate during transportation. The optional mounting bracket can be attached to the work surface enabling the HPX-PRO to be quickly snapped into a harness for transport on rough roads. At the end of the day simply remove it for safe storage in a climate-controlled environment.
Ethernet and Power Connections
Set up the unit in less than 5 minutes. Simply connect an Ethernet and power cable and you are ready to work.
Carry Strap
Comes with detachable strap for over-the-shoulder carrying in transport.
Watch>>>Caresttream NDT Capabilities Video
Tune into Carestream's NDT YouTube channel for video product demonstrations and feature overviews of our innovative imaging products.
Caresteam NDT Digital Training
Learn how to convert from film to a fully digital Imaging environment for all your NDT work. Courses meet the guideline of:
Metals Affordability Initiative (MAI)
Federal Working Group on Industrial Digital Radiography (FWGIDR)
Defense Working Group on Non-Destructive Testing (DWGNDT)
Qualifies for (10) points towards ASNT NDT Certification renewals
Carestream NDT is a worldwide provider of X-ray imaging systems and products for non-destructive testing (NDT) including: computed radiography (CR) systems, digital system plates and cassettes, digital image archiving, film, chemicals, processing equipment and accessories.
Our innovative solutions enable our customers' success and help create a safer life for people around the world through the inspection of critical components in the aerospace, transportation, oil and gas, mining and energy industries. With our award-winning products, Carestream remains at the forefront of technological advancements in imaging for NDT applications.
Exceeding our customers' expectations in the markets we serve worldwide is our highest priority, and our ability to adapt and partner with customers makes it easy to do business with us. Our customers are the beginning and the end of everything we do. We understand and fulfill their needs in ways that are meaningful to them to help them excel in today's competitive markets.
Carestream has the radiology and IT expertise to help NDT professionals improve global communication of critical and time-sensitive image sharing and review. We have global sales and service teams, strong product platforms, solid market positions and a trusted brand and we are committed to helping NDT professionals control costs while maximizing product investments.
With an employee base passionate about delivering high-quality solutions to our customers, a portfolio of market-leading products and the financial strength to invest in our future, we are poised to build on our past success and continue to innovate and grow. We are proud to be part of the Onex (TSX: OCX.TO) family of companies since 2007. Onex is one of Canada's largest and most respected corporations.