The New HPX-DR Non-Glass DR Detector
Featured Product from Carestream NDT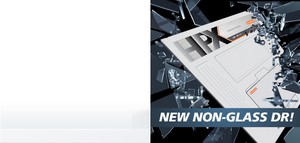 Benefits:
REDUCED EXPOSURE – DDA panels are highly sensitive. Combine this with the ability to do frame averaging and you will likely be able to reduce your exposure time and still capture the sensitivity needed for your critical inspection task.
FASTER – Uses no disposable media in the process, eliminating cassette loading and unloading time, developing, processing and reloading for the next shot. The HPX-DR Non-Glass detector offers quick start up and calibration, and rapid image display after acquisition. Produce high quality digital images in seconds for immediate analysis.
POWERFUL SOFTWARE – The HPX-DR Non-Glass detector is powered by our INDUSTREX image analysis software with the most advanced NDT post-capture tools for image measurements, enhancements and analysis.
EASIER – The HPX-DR Non-Glass detector is lightweight and compact with an all-weather design that is simple to operate. In the lab, it can be operated on a powered tether and in the field it can run 100% on battery. With the 'hot swap' feature the panel can remain on when changing batteries, increasing uptime.
WIRELESS FREEDOM – The HPX-DR Non-Glass detector can operate completely wireless giving the user full freedom of movement and minimizing set-up time on site. This is especially helpful for rope access teams looking for minimal weight, high sensitivity and a powerful wireless connection.
HPX-DR Non-Glass DR Detector
The new HPX-DR Non-Glass detector incorporates a tougher material instead of glass for maximum durability against the rigors of NDT field work. It virtually eliminates costly repairs for broken glass and comes with a 2-Year warranty and a free loaner* so you can reduce downtime and the expense of purchasing redundant detectors.
Features:
Comes with a 2-Year warranty and FREE loaner* (*US and Canada only) for maximum uptime and cost of back-up detectors
139 μm pixel pitch for high-resolution imaging
Large format (350 x 430mm) and thin profile (14.7mm)
Heavy-duty shielding designed specifically for high exposure NDT applications
Protective, weatherproof enclosure – perfect for remote fieldwork
Close-to-edge imaging capability
Robust wireless connectivity
Uses the same INDUSTREX software on your current Carestream NDT digital products
Powerful lithium-ion batteries with battery 'hot-swap' to keep the detector running during battery change
Watch>>>Caresttream NDT Capabilities Video
Tune into Carestream's NDT YouTube channel for video product demonstrations and feature overviews of our innovative imaging products.
Caresteam NDT Digital Training
Learn how to convert from film to a fully digital Imaging environment for all your NDT work. Courses meet the guideline of:
Metals Affordability Initiative (MAI)
Federal Working Group on Industrial Digital Radiography (FWGIDR)
Defense Working Group on Non-Destructive Testing (DWGNDT)
Qualifies for (10) points towards ASNT NDT Certification renewals
Carestream NDT is a worldwide provider of X-ray imaging systems and products for non-destructive testing (NDT) including: computed radiography (CR) systems, digital system plates and cassettes, digital image archiving, film, chemicals, processing equipment and accessories.
Our innovative solutions enable our customers' success and help create a safer life for people around the world through the inspection of critical components in the aerospace, transportation, oil and gas, mining and energy industries. With our award-winning products, Carestream remains at the forefront of technological advancements in imaging for NDT applications.
Exceeding our customers' expectations in the markets we serve worldwide is our highest priority, and our ability to adapt and partner with customers makes it easy to do business with us. Our customers are the beginning and the end of everything we do. We understand and fulfill their needs in ways that are meaningful to them to help them excel in today's competitive markets.
Carestream has the radiology and IT expertise to help NDT professionals improve global communication of critical and time-sensitive image sharing and review. We have global sales and service teams, strong product platforms, solid market positions and a trusted brand and we are committed to helping NDT professionals control costs while maximizing product investments.
With an employee base passionate about delivering high-quality solutions to our customers, a portfolio of market-leading products and the financial strength to invest in our future, we are poised to build on our past success and continue to innovate and grow. We are proud to be part of the Onex (TSX: OCX.TO) family of companies since 2007. Onex is one of Canada's largest and most respected corporations.