Coating Services
Service Detail from Carestream Tollcoating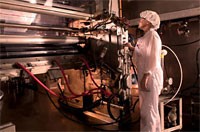 Our coating operations provide efficient scale-up from concept to production. Our coating facilities are located in White City, Oregon and Windsor, Colorado.
Coating Methods
Slot die, roll, slide coating, gravure and curtain coating
Laminating, CDT and UV curing available
Solutions
Aqueous and solvent (MEK, IPA, Acetone, Toluene, Methanol, Heptane, and other non-chlorinated solvents)
Substrates Include
Film
Paper
Foil
Non-wovens
Access to world class technology
Extensive experience in coating technologies applied to your application to solve most technology challenges.
Faster time to market
Process development mechanisms enable rapid prototyping and commercialization efficiencies for cycle-time optimization.
Lower investment costs
Leverage Carestream Tollcoating's technical expertise and coating applications in both aqueous and solvent environments.
Complex coating solutions
Analytical capabilities and coating expertise minimizes system component interactions for the reliable production of complex, multi-layer coated web products.
Carestream Tollcoating offers contract coating services specializing in the application of aqueous and solvent coatings on flexible substrates for medical imaging, display, battery components, electronic components, and imaging products. Leveraging intellectual and manufacturing assets acquired from 3M and Eastman Kodak Company, Carestream Tollcoating builds on over 100 years of coating leadership to deliver an immeasurable wealth of knowledge and problem-solving expertise in precision coating applications, solutions preparation, converting and packaging. The state-of-the-art pilot facilities enable us to quickly adjust formulation and coating conditions for low-cost, small-run and experimental toll coating projects, making Carestream Tollcoating the ideal partner for product development, scale-up and small volume products.
---