Earth Leakage Monitoring Relays
Featured Product from CARLO GAVAZZI Automation Components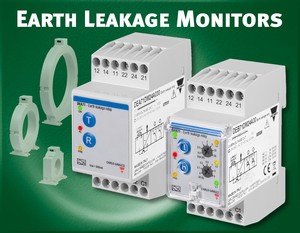 CARLO GAVAZZI's two new Earth Leakage Monitoring Relays, the DEA71 and DEB71, when used in conjunction with a CTG Series Core Balance Current Transformer and appropriate circuit breaker, provide machine protection against fault currents, and help to reduce fire hazards. These earth leakage relays react to small changes in current which can occur due to insulation or grounding failure.
Two models, each offering choices of threshold ranges, allow users to find the right solution for their unique requirements. The DEA71 features fixed trip levels which offer time-saving installation, with a reliable tripping level and safety against tampering. The DEB71 provides ability to adjust trip levels and includes an adjustable time delay; a lockable front cover provides further tamper protection.
A key advantage offered by DEA71 and DEB71 is avoidance of nuisance tripping in the circuit, in accordance with the EN 60947-2 Annex M norm. Two separate alarm outputs allow for a warning signal to be generated before a shutdown is necessary. Their compact (35mm wide) housing preserves valuable panel space.
The DEA71 and DEB71 from Carlo Gavazzi perform crucial monitoring of earth leakage, prolonging machine life by limiting damage from ground faults as well as reducing fire risk. They conform to global standards such as UL 508, CSA C22.2 and EN 60947-2 Annex M.
The features of the DEA71 and DEB71 Earth Leakage Relays include:
DEA71 includes two models with fixed trip setting: 30 mA and 300 mA
DEB71 includes two models with adjustable trip levels: 30 mA to 5 A and 300 mA to 30 A
2 SPDT relay outputs, for warning and for alarm
24 VAC to 240 VAC power supply
NORM DIN-rail housing 35 mm
Lockable lid on adjustable models (DEB71)
The Earth Leakage Monitors and Core Balance Current Transformers are available from Carlo Gavazzi's network of sales offices and distributors in the Americas, or at www.GavazziOnline.com.