Long Range Door and Gate Photoelectric Sensors
Featured Product from CARLO GAVAZZI Automation Components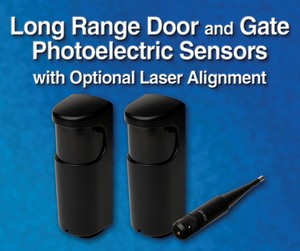 CARLO GAVAZZI is proud to announce the launch of our new PD140 Series Long Range Photoelectric Sensors, an exciting product line targeted specifically for Door and Gate Access applications. This high performance sensor easily handles the tough challenges typically found in the door and gate industry, in a cost effective, simple to use design.
The rugged design of the PD140 makes it the ideal choice for harsh outdoor use, where strong ambient light, fog, rain, snow, and dust, might be present. The sturdy aluminum and polycarbonate housing also protects the sensors against vandalism. The PD140 has an amazing outdoor sensing range of up to 60 meters (200 feet); for controlled indoor environments, the range is up to 120 meters (400 feet).
As most installers know, installing and setting up infrared sensors at long distances can be a very challenging and tedious task. With the optional APD140-LA01 Green Laser Alignment Tool, alignment of the PD140 can be done in seconds, even at distances longer than 60 meters (200 feet)! Full UL325 Certification ensures that the PD140 has the features necessary to meet the UL requirements for Door and Gate Access applications.
The features of the PD140 Series Photoelectric Sensorsinclude:

Aluminum and polycarbonate housing
Sensing range:
- Outdoor up to 60 meters (200 feet)
- Indoor up to 120 meters (400 feet)
Adjustable alignment: ± 100° horizontal, ± 15° vertical
Emitter mute (test input)
Two alignment tool options:
- Visible Green Laser (APD140-LA01)
- Voltage Output (APD140-TC01)
Crosstalk elimination with AC power supply and synchronization mode (2 set)
SPDT relay contacts
12-24 VAC/DC power supply
IP65, NEMA 1, 2, 3, 3R, 3RX, 3SX, 3X, 5, 12 and 12K rating
UL325 and UL508 Certifications
CE, EN12453, EN12445, EN12978 ESPE type 2, Performance level d
The PD140 Door and Gate Photoelectric Sensors are available from Carlo Gavazzi's North American network of sales offices, distributors, and online at www.GavazziOnline.com.