Solid State Relays w/Integrated Monitoring
Featured Product from CARLO GAVAZZI Automation Components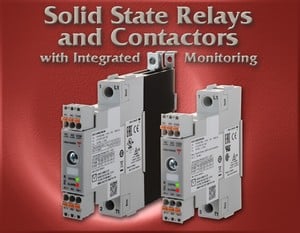 Carlo Gavazzi is pleased to announce the launch of our new RG..M Series of single-phase solid state relays and contactors with integrated monitoring features. The RG..M consists of solid state switches that integrate monitoring features for quick and timely failure detection, besides the switching function. Timely failure detection eliminates the need for re-work and prevents scrap, leading to better production throughput and better quality products. Detection for mains loss, load loss, SSR open and short circuit, SSR internal fault and supply out of range are now possible without a need for external components. The RG..M of solid state contactors and relays is equipped with an Alarm LED for visual indication of fault presence, and an alarm transistor output for remote signaling.
The RG..M solid state relays are available with either an integrated heatsink, RGC..M or without the heatsink, RGS..M. Ratings go up to 660 VAC, 65 AAC (for the RGC..M) and 90 AAC (for the RGS..M). The RG..M Series is controlled with a 4 to 32VDC input signal, and must be supplied with 24 VDC.
Typical applications for the RG..M include plastics machinery, packaging, semiconductor wood-processing, and drying equipment, in a situation, when an immediate detection of load or relay failure is required.
The RG..M adds to the portfolio of RG SSRs with monitoring, which already includes single-phase SSRs with partial load loss detection and 2 and 3-phase devices with system monitoring.
The specifications of the RG..M Series include:
Single-phase solid state devices
Integrated system monitoring
Mains and load loss detection
SSR open and short circuit detection
LED indication of fault conditions
NO and NC transistor output
Pluggable spring input and alarm terminals
RGC1..M SSR with an integrated heat sink
RGS1..M SSR requiring an external heat sink
Rated voltage up to 660VAC
Control voltage of 4-32VDC
RGC1..M: loads up to 65AAC at 40°C
RGS1..M: loads up to 90AAC at 40°C
CE, EAC, cULus (RGC), cRUus and CSA (RGS)
The RG..M Series is available from Carlo Gavazzi's network of sales offices and distributors in the Americas, or at www.GavazziOnline.com
Click here for more information on these new products such as application notes, data sheets, brochures, etc.