Two/Three-Pole Solid State Relays & Contactors
Featured Product from CARLO GAVAZZI Automation Components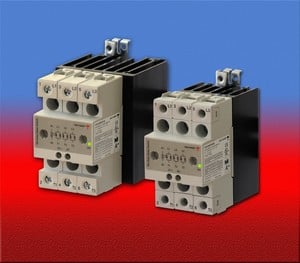 Carlo Gavazzi is proud to announce our new RGC2 and RGC3 Series of 3-phase switching solid state relays and contactors. They are an addition to our existing RGC1 single phase series of solid state relays and contactors, providing an innovative solution for 2 and 3-pole switching of 3-phase loads.
The product is intended to replace electromechanical contactors when switching speeds are quite frequent. Their compact size, easy installation and flexible configuration make these devices the ideal solution, especially when retrofitting. The RGC Series of solid state relays and contactors are designed for switching resistive as well as inductive loads and are UL Listed as Motor Controllers. Reliable operation is ensured by means of the integrated overvoltage protection, high I2t ratings and immunity conformance to industrial standards. Additionally, an innovative thermal design improves the product lifetime.
RGC Series solid state relays and contactors are a ready-to-use, out-of-the-box solution, mainly targeting Plastics & Rubber, Packaging & Wrapping, HVAC and Food & Beverage markets. Features include:
3-Phase solid state switching devices
Integral heat sink with robust metal DIN rail adapters
Ratings up to 600VAC and 75Amps per phase
UL certified motor ratings of up to 25Hp at 600VAC
UL SCCR rating of 100kA with J class fuses
cULus listed, CE compliant
Amperage rating based upon 40°C ambient temperature
Integrated MOV for overvoltage protection
Integrated cooling fan on higher amperage models
Optional monitoring of SSR and load failures
High I2t of up to 15,000 A2s
Optional EMR and transistor alarm outputs
Click here for additional information, including a product brochure, datasheet, etc.
The RGC2 and RGC3 Series are available from CARLO GAVAZZI's North American network of sales offices and distributors, or at www.GavazziOnline.com.