Fiberglass Stair Treads
Product Announcement from Carrier & Sandstedt Ent. Inc.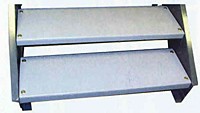 Designed as an alternative to the high-maintenance concrete or slippery metal step, covered stair treads are designed for commercial and architectural applications where aesthetics and low maintenance are important considerations. Fiberglass stair treads are available in multiply resins and has an integral grit top which comes in three slip-resistant textures-coarse, medium and fine which is suitable even for barefoot traffic. They can with stand many corrosive environments including salt, continuous moisture and constant cleaning. The lightweight tread weighs less than 20 percent that of a precast concrete step and can be easily fabricated and installed with simple wood working tools.
DOWNLOADS
Molded Grating Resins
(PDF, 392KB)
Load Table
(PDF, 187KB)
---