Carver Bench Top Standard Auto Series Lab Presses
Product Announcement from Carver, Inc.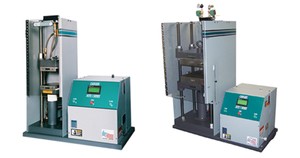 Carver's most popular hydraulic laboratory presses are in use in laboratories around the world more than any other press. They have stood as a standard for reliability, quality, dependable performance and lasting value for more than 95 years.
Now, Carver Auto Series presses feature enhanced "NE" controls with full touch screen interface, a proximity switch for adjustable slowdown position and a self-contained ¼ HP hydraulic unit. In addition, two hand "anti-tie-down" close buttons and an interlocked safety enclosure with hinged door are provided for operator safety. Platen heat is controlled through the PLC on heated models and selection for auto reheat at end of cycle is provided. This programmable control system has storage capacity 10 recipes. Each segmented recipe is capable of 20 programmable setpoints of: clamp force, cure time, platen temperature and bump (automatic bump sequence may be programmed in any or all segments). Either force or temperature mode may be chosen per segment. Platen temperature values may be entered in degrees Fahrenheit or Celsius and the display can easily be switched between the two units. Clamp force values may be entered in pounds, kilograms, US tons or metric tons and the display can easily be switched between units.
Click here for product specs.
---