5 Crucial Factors in Coating Your Optics
Service Detail from Cascade Optical Corp.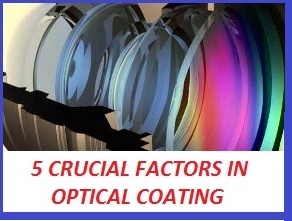 Achieve your performance goals by ensuring that these 5 aspects of the process are addressed. Coating engineers can assist you whether you need anti-reflective, dialectric mirrors, ITO or any challenging coating.
Substrate Cleanliness: With the assistance of a state of the art ultrasonic cleaning line and greater than 100 x magnification we are able to remove particulates down to the submicron level. Our clean rooms are actively monitored as a class 100 ppm. The end result is a clean and pristine optical element that is ready for the absolute best possible adhesion.
Thin Film Deposition: Our proprietary deposition process with monitored low contamination levels produces a highly dense thin film structure with optimal low stress, absorption, and scatter. This yields the best possible solution for transmission and reflection for high laser damage threshold and severe abrasion requirements. Year after year, cascade optical has created seemingly impossible custom thin film interference filters which have been unsurpassed by our competition
Glass Fabrication: Cascade Optical Corporation's precision glass fabrication department specializes in plano optics. Our ability to measure flatness before and after coating gives us an edge in the market place
Quality Control: Our engineer headed staff of quality assurance inspectors observe optics with military standard inspection stations utilizing both fluorescent and incandescent illumination. our qa team keeps a well-documented log of all defects. If the optical substrate is supplied by the customer, details of any defects are immediately relayed upon discovery.
Delivery: We are committed to on time delivery and maintaining informative up to date friendly communication with our customers. Throughput can be achieved within 24 hours.